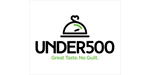 Under500 - Healthy, Home-Style Café Franchise
Under500 is redefining healthy food with the interactivity of high-quality ingredients, open kitchens and a chic industrial atmosphere.
Finance requirements

Franchise Fee: from $25,000
Minimum Investment: $250,000

Available areas

UAE
Profile

Under500 franchises available now in the UEA
Under500 franchises are now available in the UEA. Find out everything you need to know, including the cost to start this franchise in minutes here!
ABOUT THE COMPANY
Under500 is an innovative, home-style café concept that offers a wide selection of delicious and healthy meal options, each with under – you guessed it – 500 calories!
Under500 opened its first café store in Dubai in Spring 2016 and has since signed over 28 units across the GCC & UK. Our brand is a merger of worldwide tastes and trends to create a fast and casual environment for today's busy and health-conscious professionals.

WHY CHOOSE Under500?
Under500 grants franchisees an exclusive territory for a minimum of five outlets agreed upon a case-by-case basis, giving franchisees an excellent starting point from which to build their business but with the support and training that comes with the Under500 brand.
WHAT DOES Under500 DO?
Already a favourite amongst Dubai residents, Under500 offers fresh, gourmet meals – breakfast, lunch and dinner – that help the client stay healthy and fit with every dish incorporating nutrient-dense ingredients. Under500 is redefining healthy food with the interactivity of high-quality ingredients, open kitchens and a chic industrial atmosphere.
BENEFITS
Exclusive licence to the use of the Under500 marketing and operational systems
Assistance in the location selection and construction specifications
Assistance in construction and throughout the pre-operational stage
Equipment and furnishings for the franchise unit (if required and depending on locations)
Full staff training
Marketing preparation to launch the franchised unit in its territory
Signage and other branding elements for the franchised unit
Permanent marketing assistance and support Operations and Management Manuals
Assistance in supplies if needed
35-day training program: 14-21 days at headquarters, followed by 10-14 days on-site
Printed materials
Marketing strategies, as well as pricing and promo schemes
Ongoing research and development
Under500 Management will provide franchisees with approximately 14-21 days of initial training at Under500 HQ or a location designated by the Under500 Management, which will begin approx. 6-9 weeks before the franchise unit opens.
Phase I – Administrative, operational, and sales/marketing matters; it will also include on-the-job training. This training will be for the franchisee and one to two designated attendees.
Phase II – On-site training typically takes place when the franchisee commences operations. Experienced trainers from Under500 will provide on-site training for 10-14 days to assist the franchisee in operations commencement.

FINANCIAL REQUIREMENTS
Under500 offers three franchise programs:
INDIVIDUAL UNIT

Single Unit Franchise Fee: 25,000 $
A typical unit is between 700 SqFt – 1500 SqFt
Servicing a population of 80,000 – 100,000 inhabitants

AREA DEVELOPMENT

Minimum 5 outlets
Area Development Franchise Fee: 100,000 $

MASTER FRANCHISE

Exclusive area agreed upon a case-by-case basis
ROYALTY FEE: 6% of the gross monthly sales.
ADVERTISING FEE: 2% of the gross sales per month
MARKETING FUND: 1.5% of the gross sales per month
FINANCIAL INFORMATION
An individual Under500 outlet's initial investment ranges from $250,000 to $350,000, including the Franchise Fee, six months rental, working capital, training, and more.
The initial term is five years from the date of signing the Franchise Agreement. The franchise can be renewed for four additional terms of five years each, providing you comply with the Franchise Agreement's provisions.